There has never been a more pressing time to advocate for Mental Health than Now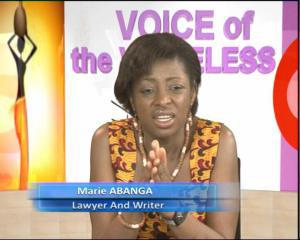 Personally as a fervent blogger and prolific writer, and in her capacity as Country Director of the Gabriel Bebonbechem Foundation for Epilepsy and Mental Wellbeing (GBM-EM), Marie Abanga works in relevant ways to beat stigma and discrimination, and she vigorously fights taboos and rejection.
She thinks there is an urgency to improve mental health care for people to seek and find support easily. She yearns for strategies that will advance the mental health agenda. She hopes that someday mental health will be like other health issues in Africa and the rest of the world.
Marie Abanga is an advocate for mental health in word and in deed in her native Cameroon, and she is highly sought after by the media on this sensitive and heavily stigmatized subject.
Contact Marie Abanga
 for professional advocacy, coaching and speaking events with groups and organizations, and other media engagements.
Fight, Flight or Freeze : 8 ways stress can ruin your body
A one of her kind Mental health Advocate and Author
"Marie Abanga is a one-of-a-kind author whose words are filled with inspiration, passion, and empathy. She uses writing as a way to express her inner nature, and she's authentically honest and down-to earth. As a mental health coach, Marie has the uncanny ability to see dilemmas for what they truly are. She provides insights that help one rise above the pettiness, heartbreak, and anger found in daily interactions that challenge those of us with mental health issues. Through her email mental health coaching, Marie has helped me countless times when I've been faced with extremely difficult situations such as emotional abuse, dealing with narcissistic relatives, anxiety, insecurity, and depression. She is compassionate yet she focuses upon what will help me work through and past my problems. I can't speak highly enough about the remarkable Marie Abanga".
Dyane Harwood - USA, Author of Birth of a New Brain Healing from Postpartum Bipolar Disorder